Mischief Managed.
I solemnly swear that I am up to no good! You may be very familiar with the title of this blog post, and if not it is a phrased borrowed from J.K. Rowling's Harry Potter and the Prisoner of Azkaban. I am definitely grateful for 2016 and all of the things that have transpired, the good, the bad and the ugly.
The Year of Firsts
I have to say that so many things happened this year, many of them for the first time. Suffice it say that sometimes it just takes that first step and then taking that step leads to additional steps and before you know it, you are immersed in the teaching and learning experience. That is exactly what happened to me and as you read through this, you will see what types of things it has led to. I am truly grateful to not be an annual learner, or a weekly learner, but a lifelong learner. I do not want to ever stop learning.
Black History Teacher Nominee - January 2016
I was honored by a few parents as they each submitted a nomination to the state of Florida on my behalf for an Outstanding educator award. Mind you I was not selected as the recipient, however it spoke to the work that I do daily in the classroom and the degree to which parents notice, not just in what they see you do, but how their child's lives are transformed as a result of your diligence, passion and eagerness to help. I was moved by the nominations and received copies of them all and will keep them.
Blogging Began - 5/2016
I'd heard so much conversation about blogging around this point in the year and had to respond. Of course the immediate question in my mind was where to find time to "fit" blogging in, and I also questioned its purpose. Now that is not to say that I have not ever written things down, but specifically, the writing I had done were poems, stories, songs and journaling that I tended to keep to myself. Long story short, I began to understand the value of a blog post as a means to share with others your experiences, findings, "aha" moments and "the stories" we write through our lives. So my blogging began to take shape when I realized that other people actually wanted to read what I'd written. They actually cared about the insights and anecdotes I'd picked up along the way, enough to take the time to read and in some cases, respond. The rest as they say is history because I have posted several times since then and although this is the first post after a bit of a break, I enjoy the blogging and now use it with my students in the classroom.
Just as it helped them to establish community amongst each other in the classroom, through an electronic platform and interaction there, it has helped me to grow and connect with others and enrich myself through developing a PLN. I couldn't always officially say that I'm an author. But today, I can confidently state that I am, alongside so many "greats" in the education world. Through EduMatch we have pulled a phenomenal project together. So, if I had not started "small" with blogging, I may not have ever developed the confidence in what I had to say, to take part in a bigger writing adventure. Now, I am excited to pursue writing further.
EdCamp Magic - 6/4/2016
EdCamp Magic was my first EdCamp ever that I'd attended. Prior to 2016, I hadn't even heard of an EdCamp and was basically ignorant of what they were and what they had to offer. But through my voxer and Twitter participation and connections with these awesome individuals, some of which are pictured in these photos, I learned. I made my way to Windermere Prep for what I would say was the best "first" experience ever. I met several of the people face to face that I'd interacted with on Twitter for a while, including: Sarah Thomas (founder of EduMatch), Tammy Neil, William Jackson, Zac Leonard, Alex Stubenbort, Dan Koch, Fran Siracusa, Jennifer Williams, and Amber McCormick.
First Tweet & Talk Edumatch - 6/5/2016
I participated in my first Tweet and Talk, which brings together Twitter and Google Hangouts live on air. I was quite excited to join in and at the moment I do not recall what the topic was. However, Sarah Thomas hosts these weekly and moderators guide the discussions. Panelists sign up to take part in these tweet and talks and I am better because I got involved.
ST4T Conference - June 2016
The picture below are some of the phenomenal individuals who attended the Superior Tech for Teachers conference at the Plato Academy in Clearwater, FL. It was two days filled with learning and exposure to technology. Shout Out to Clarence Tan who shared his math platform with educators at this conference.
EdCamp Volusia
EdCamp Volusia is where I met Kimberly Michelle Martin for the first time face-to-face, but had interacted quite often via Twitter and Voxer. This picture was taken during an App Smash where various educators shared great apps or tools that other educators should use or could use as tools in the classroom.

EdCamp Putnam
Edcamp Putnam was my first time taking the step to facilitate a session or present something to the educators who attended. It's funny how nervous you are when you have to stand in front of others, not knowing how things will go.
In the picture captioned "EdCamp Putnam", I am demonstrating how to use a few apps available on the iOS devices. My friend Kim Martin is to credit for this picture as she is an incredible supporter and works in Volusia County Schools.
First Pass the Scope - 7/21/2016
PasstheScopeEDU was founded by Valerie Lewis as a means for educators around the globe to share the learning and insights with other educators and students, removing the walls that often serve as barriers to learning. This was my first opportunity to get involved and I have to say, the idea of sharing with a global audience and learning from those in their respective areas, countries, cities or states, was engaging, not to mention unifying.
Fresh Grade Webinar Panelist - 10/6/2016
I had the tremendous honor (again a first) to be asked to participate as a panelist in a Fresh Grade online webinar, to highlight my experiences in using it as a tool to bridge school and home, individualize learning for students, as well as increase communication between parents, students and the teacher. Alongside another panelist, we spoke of the ways in which we have embraced Fresh Grade, and the tips, tools and tricks by which we are able to accomplish tasks. This was the first time that I'd ever been asked. The presentation was a success and even during the process, I learned from Rob Heinrichs about his approach to the Fresh Grade platform.
I will eagerly support something I believe in. I suppose the focus then is to make me a believer. I am a believer in the Fresh Grade application as a learning management system. It is easy to use and easy to guide others in its use.
EdCamp Tampa Bay - 10/8/2016
Another glorious testimony of the learning that happens with eager educators seek after knowledge. Where does it put us if we stop learning today and never pursue anything new. What message would that send to our students regarding our position as educators and the learning that we expect our students to do. EdCamp Tampa Bay is led by the wonderful Fran Siracusa and Jennifer Williams.
EdCamp Citrus - 11/12/2016
This is a candid photo of I along with friends at EdCamp Citrus over in Inverness, Florida. Another glorious experience learning about a variety of topics that aid in the development and longevity of our classrooms and student learning. It is always a fun time with this crew.
Social Media/Technology Boot Camp - 11/15/2016
This was another first this year. I kept thinking to myself: How can we encourage parents to be more involved in their child's educational process as well as meet a need had by parents? Because of our newest partnership with Full Sail Labs, out of Full Sail University, this was the perfect opportunity to as they say "kill two birds with one stone." Full Sail Labs has partnered with us to increase the momentum in engaging students in the computer sciences as well as the arts, as part of the effort and an extension of the offerings we already provide at school.
So, the idea of a Technology/Social Media Boot Camp came to mind, with a two fold purpose: to educate parents on the social media platforms that exist today and the ramifications of use, as well as to provide them with the knowledge of devices, programs, tools and applications that their children use in school. This would enable them to better assist at home, and provide an overall meshing of the learning process.
Google Forms allowed me to easily create an interest survey to be sent out to all parents at the school by our administrator. As responses came in, we learned exactly what parents were interested in learning and developed the boot camp around these ideas: chrome books, Periscope, Instagram, Snapchat, Fresh Grade and Twitter. These ranked highest among topics identified. The additional topics might be held for a future boot camp. We were able to have the boot camp on November 15th at the school and I was joined by two excellent educators from Full Sail Labs, to run the six 45-minute sessions, three happening concurrently. We had several parents attend and the follow up at the end of the night included expressions of gratitude for the knowledge gained and how each looked forward to additional technology boot camps.
The two sessions I facilitated were Fresh Grade and Periscope. As a Fresh Grade ambassador, I have learned a lot about the platform as it relates to individualizing learning and representing student learning in a variety of ways, not to mention the window it creates for parents into the classroom. I was able to create a mock class and guide parents through the usefulness of the platform as a learning management system as well as show them the inner workings. The parents were engaged and asked several questions about the viability of the platform. I had iPad devices on hand for parents to use to access the app although one decided to download the app on her own mobile device. Session two on Periscope included a greater number of parents and they learned about the operation of the tool and its appropriateness for sharing ideas and learning with others when they are unable to attend. Not only were they all impressed by its potential, several downloaded the application in the very session and began playing around in the sandbox.
We will send out a follow-up survey where parents who attended can document their learning. We will also send out information and tips to continue to develop their understanding. Finally, our goal is to have at least one more social media boot camp prior to the end of the school year. By such time, the word will really be out and we had several that were unable to attend the first event. It was a tremendous success to be enjoyed by all. I am grateful to my principal @charternation for having allowed me to go forward with it as well as the Full Sail Labs facilitators/educators for the awesome job they did presenting information.
EdCamp NABSE - 11/19/2016
EdCamp NABSE was the first Ed Camp that I've ever helped to organize. The picture below does not show everyone, but I will mention all who were part of the organizing team: Knikole Taylor (Leader), Kim Lane, Tammy Neil, Fran Siracusa and myself. It was great day out at the Tampa Convention Center and conversations were had by all.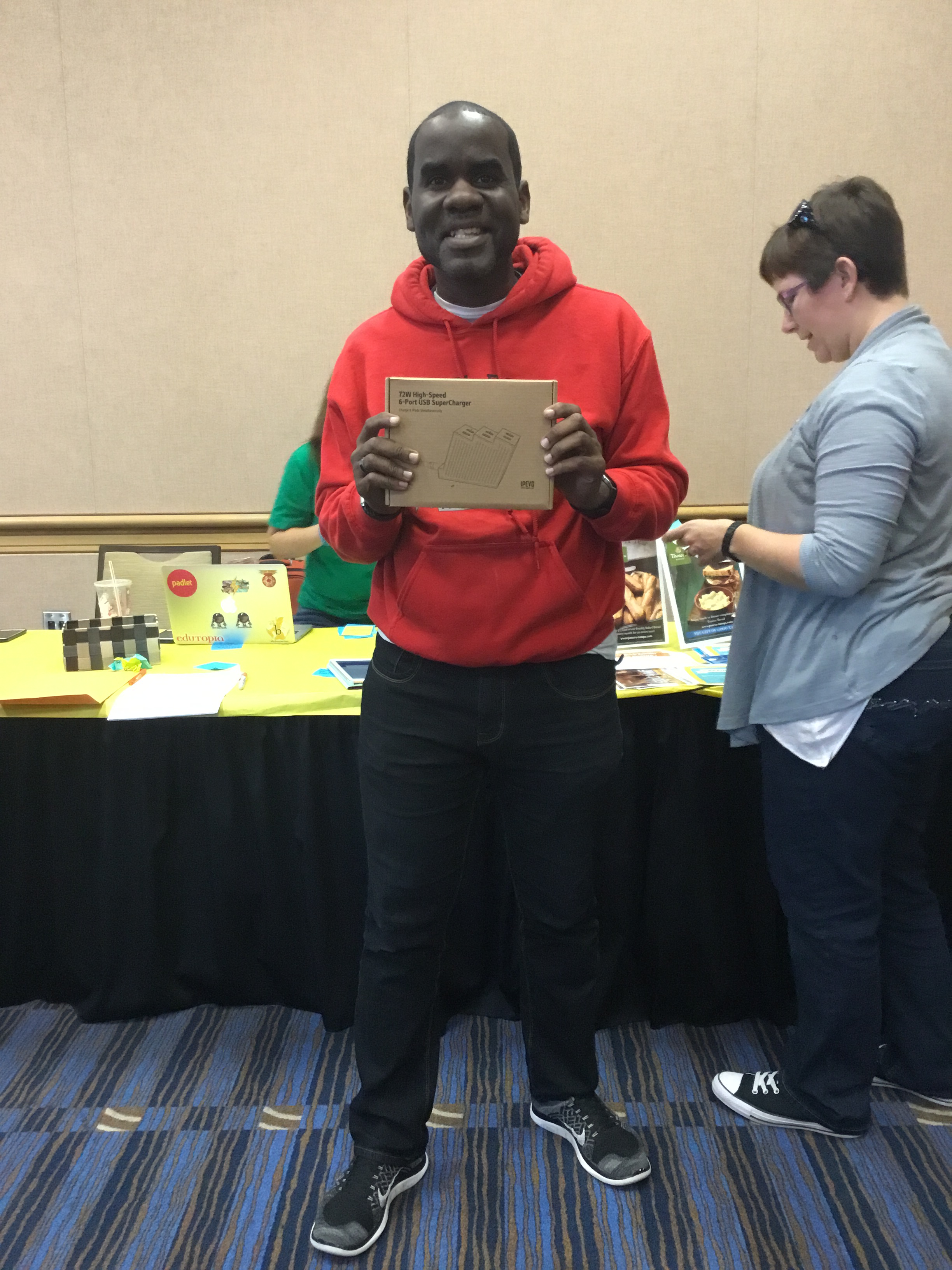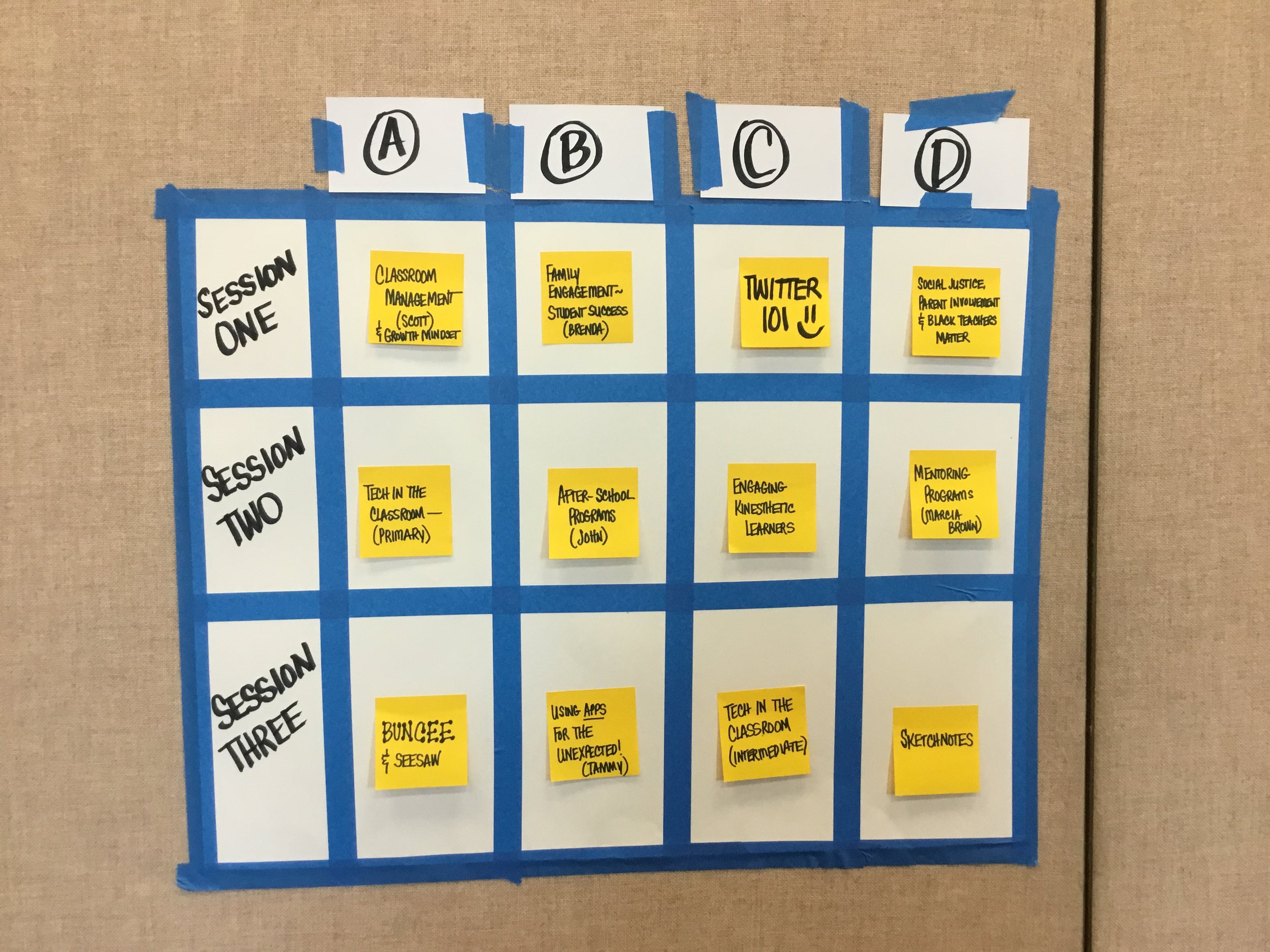 Christmas Caroling -12/16/2016
I am grateful for having had the opportunity to take part in another of our 49 Acts of Kindness, caroling with a few of my students at the Beardall Senior Center in downtown Orlando. What a great experience it was to participate with them and showcase all of the talent that our school has, not to mention serve the senior citizens that interact within the building. Smiles decorated their faces as they watched the kids perform. We sang a total of six songs and all parties involved were overjoyed by the experience. There is a link to the YouTube video, if you care to watch and listen; The link is here.
News to be Shared on 12/29-12/30
Something great will be announced around this time that I was grateful to have taken part in. Stay tuned!
Final Thoughts
This certainly does not totally capture the year, but this post contains many highlights to all of the events that took place that have shaped me. I am grateful for all that has transpired and I am looking forward to the greater in 2017. Thanks for reading this post and I welcome any comments you may have. Mischief managed!
I have amended this post and added this. Tammy and Justin have been a great encouragement and "pushers," you know the ones who see the good in you and push it out. Please make sure you follow Justin Schleider and Tammy Neil (founder of FLedChat) on Twitter. These are phenomenal people. Justin blogs here and Tammy's writing can be found here.